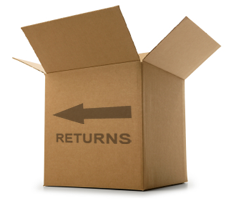 5 TIPS ON A SUCCESSFUL RETURN We want you to LOVE your purchase from us. But, we understand things happen and you may need to make a return. As long as it is an unused stock item, still in the original packaging, you have 30 days of purchase to return it to us. There is a 20% restocking fee & you must pay the freight. All returns must be authorized prior to shipping. Contact our customer service department for instructions.
Custom items can not be returned.
To make it as easy as possible, here are 5 tips on a successful return.
STEP ONE: Contact Customer Service
It's important we know what your returning and why. We need to issue you a return authorization (RA Number) so that our receiving department will sign for it and know what it is when it appears on our docks. No credit will be given on unauthorized returns.
STEP TWO: Make sure your item is properly packaged up to prevent damage on the return shipment.
STEP THREE: Make sure your return is properly labeled.
We will provide a call tag (via email, fax or mail) and assist in scheduling a pick-up for the freight company to pick up the equipment. Once you receive call tag/pick up label, place on the package for return.
*UPS label (Drop off at any local UPS branch)
*Pick up label (wait for pick up by trucking company)
STEP FOUR: Item is returned back to warehouse and the equipment is inspected once received. If we find that the equipment is damaged, or is not being returned for the reason the RA was issued, we will contact you. This could affect your refund. If you item is not used, damaged or otherwise unusable… then …
STEP FIVE: Your return is processed and your credit is issued.
To read our full Term & Conditions on Returns or Exchanges, click here.