Body shop hazards exist in every body shop. When body shops paint vehicles, the workers have to use a paint mixing station to get specific colors. There are many different types of chemicals present in materials such as primers, sealants, catalysts, hardeners, additives, pigments, solvents, and isocyanates (highly reactive, low molecular weight chemicals). Most of these substances are toxic, and exposure to them can be hazardous to health. Isocyanates are the leading cause of occupational asthma in the United States.
According to OSHA, workers in auto body shops are exposed to a variety of chemical and physical hazards. Chemical hazards may include paints, fillers and solvents from spray painting operations; silica from sandblasting operations; dusts from sanding; and metal fumes from welding and cutting.
Auto body shops typically generate several kinds of potentially hazardous waste, including waste solvent and coatings, contaminated rags, wipes, and absorbents, empty containers, used oil, waste antifreeze, sanding or grinding dusts, and contaminated wash waters.
Working with these types of hazardous materials can cause risks such as fires, explosions, corrosive materials and toxic vapors. It is important if you work with hazardous materials that you know how to store, mix and dispose of these chemicals properly.
PAINT MIXING ROOM
The safest first step is to store all hazardous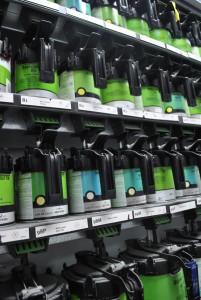 materials in a paint mixing booth. A mixing booth is a room that provides a safe space for workers to mix their paints, coating, etc. This, of course, causes harmful fumes that are pulled and exhausted from the space. Mixing booths are commonly required by code if you are mixing paints for spraying. This helps keep these chemicals safe and ventilated. Standard Tool's mixing booth ensures continual movement of air within the paint mixing room to prevent hazardous vapors from accumulating. The fan in our Mixing Booth runs off of a 110V and runs continuously (24-hours) to keep the vapors vacating from the booth. Read the Best Practices for Paint Mixing Rooms from the EPA.

Some of the standards from NFPA-33 (National Fire Protection Act) for mixing booths that you should be familiar with prior to purchasing a mixing booth:
The mixing room shall meet the construction requirements of Section 5.1. –They are required to be built much like a spray booth. Noncombustible materials with regulation on the types and thicknesses of materials, etc. Any paint booth manufacturer should have this type of construction built in right out of the box.
The area of the mixing room shall not exceed 150 sq. ft.
The mixing room shall be designed to contain a spill of the contents in the room.
The mixing room used for mixing and dispensing operations shall be provided with continuous mechanical ventilation and the ventilation system shall be in operation at all times.
Mixing rooms shall be classified, for purposes of electrical area classification, the same as enclosed spray booths.
The mixing room shall be provided with an approved automatic ire protection system that meets all applicable requirements of Chapter 9. – Chapter9 discusses fire suppression and many aspects of fire prevention criteria. What is most important to know is that mixing rooms need fire suppression systems just like your paint booth needs one. Many of the same codes apply and the same contractor should handle it.
The mixing room shall be provided with portable fire extinguish located in accordance with NFPA 10, Standard for Portable Fire Extinguishers.
Our mixing booths meet all NFPA 33 and OSHA 1910 guidelines.

KNOW HOW TO DISPOSE OF HAZARDOUS MATERIALS. DO NOT JUST THROW THEM AWAY.
Hazardous wastes regulated by the federal government are commonly known as "RCRA" wastes. These include certain characteristic wastes and all the listed wastes, like mixed solvent/paint waste and solvent recycler still bottoms. Hazardous waste laws include certain metals, such as copper, nickel, and zinc, which are not regulated under RCRA.
High concentrations of these metals have been found in auto body shop waste streams like sanding dust, paint booth filters, waste paints, and wastewater sludge.
DTSC testing has found that sanding dust, especially dust generated from sanding primers, is often hazardous because of metals content. However, dust from sanding filler (bondo) is usually non-hazardous. Manage sanding dust as a hazardous waste or conduct testing to prove that it is non-hazardous.
Used containers (including paint mix cups) are toxic, ignitable and corrosive. Check with your city to ensure that you are properly disposing of your hazardous materials.
Tools USA can answer any questions you have on mixing booths and how to get your order into production. Give us a call today.