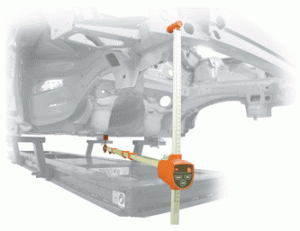 Collision repair shops both large and small need accurate measuring capabilities in order to return a customer's vehicle to pre-crash condition.
The Allvis Computerized Measuring System offers simple, technician-friendly measuring with the capability to print before and after repair reports.The system saves the work orders as JPEG files, making it easy to pull them up in the future. At a price that is affordable to the smaller shop and attractive to the large multi-tech shop, this system offers you a simple, speedy operation.
With the Allvis System shops can meet the print out requirements of many insurance companies to qualify for DRP status, without the $35000 investment.  The Allvis Systems are the most practical , technician friendly systems available.  Any technician regardless of experience can measure, register and print using the Allvis systems.