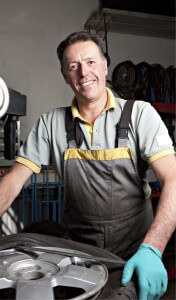 Did you know that you could earn an Associate degree in auto body repair?
With so many skilled trades falling by the wayside in our country, it is truly refreshing to know that some things will always be done by the hand of another competent human being. Competent that is, if they are trained properly.  I was pleased recently when I heard that a local community college in our part of the country was expanding its program for auto body repair training.  It has recently changed from Auto Body to Collision Repair Technology, Associate of Applied Science.  Now I know, that sounds kind of fancy, but it is a great program to help young people learn a skill that pays well and provides an immediate self-satisfaction opportunity.  A quick Google search and I was surprised by how many colleges are offering education in this skilled field.
The Collision Repair & Refinishing Technology curriculum provides training in the use of equipment and materials in the auto body repair trade. As a student, you learn structural repair, non-structural repair, mechanical & electrical repair and painting & refinishing.  At the completion of the program, you should be able to:
Perform structural analysis and damage repairs
Perform non-structural analysis and damage repairs
Refinish vehicles or vehicle components
Read repair estimates
Write repair estimates
Repair plastics and adhesives
Replace vehicle components
These skills set you up for a successful career in a variety of areas:
Franchised independent garages
Dealerships
Race teams
Truck companies
Glass shops
Boat shops
Start your own business
If this sounds like an opportunity you would like to take advantage of then look to your local community college for similar opportunities.  Please contact us if we can help equip you with the necessary trade tools and equipment to be successful in this field.