Looking for a new way to move a vehicle that is broken down without getting a friend or relative to help you move it around? Check out the GoJak auto jack and dolly, which isn't new – but is still the best! Just slide the jacks around the base of the tires and pump it up using the handy foot lever. This great product is named by the manufacturer as "The Faster Caster System".  Just jack and go without air, oil or electricity. They are used by body shops, towing companies, dealer showrooms, mechanical shops and even parking garages! GoJak's limited warranty is for a full two years from date of purchase covering factory defects in material and workmanship.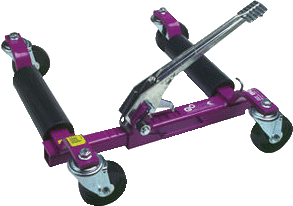 The Model 5000, available through Tools USA, is the workhorse of the GoJak auto jack / dolly product line. The basic self-loading dolly design was developed twenty years ago and the specifications have barely changed.
The 5000 Series GoJak is a proven and reliable product that can lift and move wheel weights up to 1,250 lbs. (up to 5,000 lbs with four units).
Capable of lifting tire widths up to 9 inches wide and up to 32 inches tall, the unit accommodates a very large percentage of the passenger cars and small trucks sold today.
It uses a bi-directional linear ratchet for the jack portion and four 4-inch diameter heavy-duty double ball raceway casters.